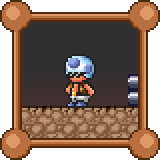 This somewhat self-absorbed spy of the Mushroom Kingdom is on a mission to investigate the Ratties. He knows they're up to something, but what exactly, he's not sure, and he needs your help to find out! As far as him actually helping you, well...don't expect much. Maybe there's a reason he was sent to dig up dirt on a gang of 524 rodents.
Ad blocker interference detected!
Wikia is a free-to-use site that makes money from advertising. We have a modified experience for viewers using ad blockers

Wikia is not accessible if you've made further modifications. Remove the custom ad blocker rule(s) and the page will load as expected.